Devon Rodriguez Draws People on the Subway | TikTok Videos
This TikTok Artist Creates Hyperrealistic Drawing of Strangers on the NYC Subway in Minutes
During a time when we all need a little extra dose of joy, TikTok artist Devon Rodriguez is in the business of making people smile with his hyperrealistic sketches of strangers on the New York City subway. For Devon, 25, who gives the drawings away to his subjects for free, it's all about the reactions he elicits, which range from unbridled shock to tears of joy. Growing up in the South Bronx, Devon always dreamed of becoming a famous artist and moving to Manhattan. Thanks to his "Subway Series" and loyal TikTok fans, he's made a name for himself with his detailed portraiture and even sold one of his paintings, titled "Girl on the Subway," for more than $22,000 earlier this year.
"I've been into art my whole entire life. It's all I've thought about ever since I was like 4 years old," he told POPSUGAR. In middle school, Devon picked up his first can of spray paint and became well versed in the art of graffiti. At age 14, he was arrested for his graffiti work and decided to try a new medium, taking classes to work on portrait drawing and realism in high school. "I was like, 'Oh, I love this. Forget graffiti. I'm going to do this [instead],'" he said. "I've always been interested in people watching and I've always loved drawing, so doing both kind of [goes] hand in hand."
"There was this one guy that I was [drawing] on the train and he told me he was getting off on Spring Street . . . He missed like 10 stops just for me to finish."
With the help of his high school art teacher, Devon diversified his portfolio — which mainly consisted of his graffiti work to start — and submitted an application to his dream school: the High School of Art and Design in Midtown Manhattan. "He trained me for like six months, and then I reapplied and I got into Art and Design," he said, noting that his first application was rejected. "He's the one that inspired me to [sketch on the subway]." On his second attempt, Devon was invited to enrol, and he continued to practice his drawing skills by sketching people on the subway per his teacher's suggestion.
In 2020, Devon began posting his sketches to TikTok, along with his subjects' reactions. After sharing a drawing of a woman security guard, Devon received hundreds of DMs saying, "Oh my god. To see her reaction made me so happy. I sent it to this person." He explained, "I couldn't believe it. So I was like, 'You know what? I'm going to keep on with the reaction thing. It makes people happy.'" As far as the criteria for his subjects goes, Devon says it's mostly "whoever's around," but details like unique tattoos and standout fashion choices always make for a more interesting sketch.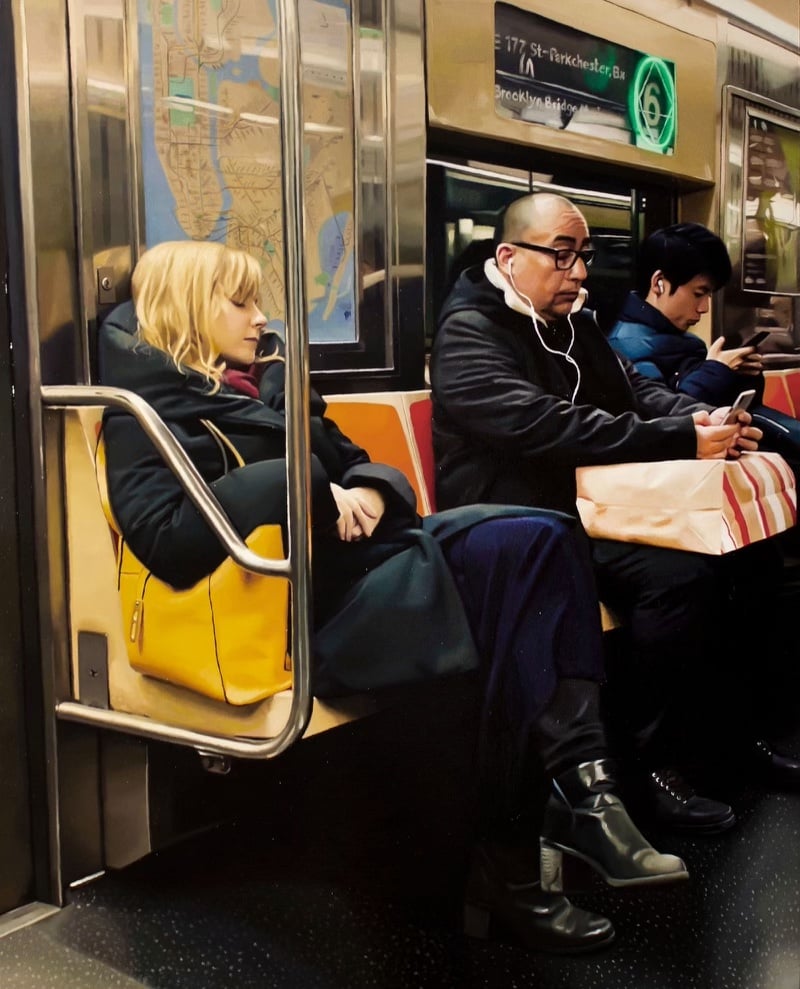 Image Source: Devon Rodriguez
To make sure his subjects don't leave before he's done — a sketch can take anywhere from 15 to 30 minutes — he tells them beforehand that he's drawing them. "Some people will say no. They're like, 'Oh, I don't care. I don't want to do that,'" he said. "But some people miss their stop for me . . . There was this one guy that I was [drawing] on the train and he told me he was getting off on Spring Street, so I was like, 'Alright, I have enough time.' His stop was next and I wasn't done, and he was like, 'It's whatever. Just keep going.' He missed like 10 stops just for me to finish."
Today, Devon is still astonished whenever fans recognise him in real life and he appreciates the impact he's had on his viewers. "A few people comment, 'Whenever I'm depressed or I have anxiety, I'll just binge-watch all your videos and they always make me feel better,'" he said. "I'm like, 'Wow. I can't believe that my videos help people's anxiety and depression.' I would have never thought that . . . It's just amazing."
Future COVID-19 travel restrictions pending, he hopes to make his work international and film a documentary about the art he creates during his travels, namely more elaborate oil portraits created over a period of months. "I want to go to Europe, to the Paris Metro, London, and Berlin, and do subway reactions in different countries," Devon said. "I've never been out of the country, but maybe I could do this on the Tube in London. That would be cool."
Check out some of the best reaction videos to Devon's portraits ahead and visit his website for a glimpse at even more of his impressive artwork.