An Interview With Poster Girl Founders Francesca and Natasha
Poster Girl Is the Bodacious Fashion Brand Loved by Dua Lipa, Doja Cat, and Bimini Bon Boulash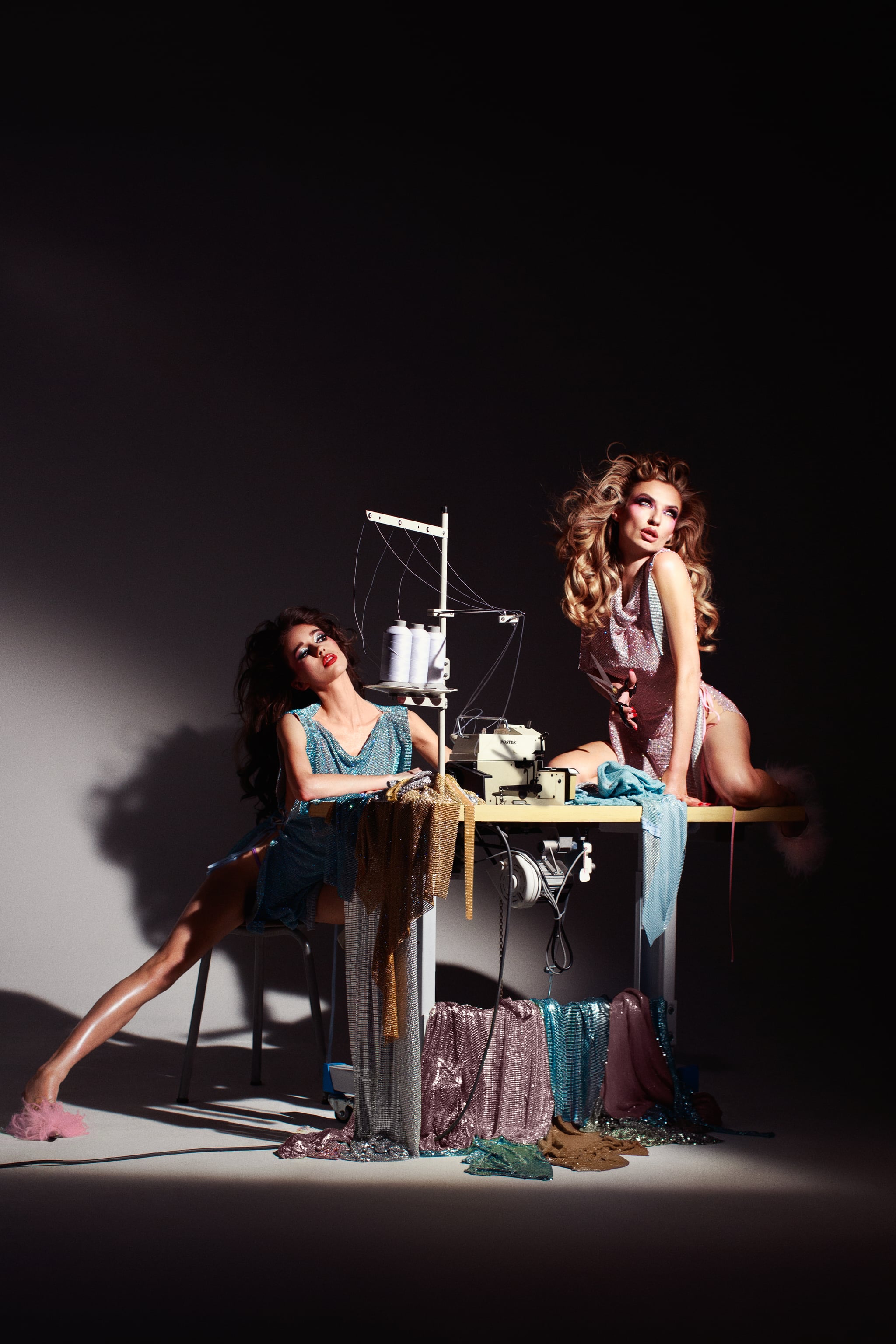 Poster Girl founders Natasha Somerville and Francesca Capper (Daniel Sachon)
Are you familiar with Poster Girl? The London-based online boutique founded by Francesca Capper and Natasha Somerville is creating the hottest dresses of summer 2021. We first fell in love with Poster Girl's skintight signature dresses after Rowan Blanchard shared a photo on Instagram wearing the brand's Charlotte dress in autumn 2020. But with nowhere to go at the time, it wasn't until spring 2021 that stars like Dua Lipa, Kylie Jenner, Selena Gomez, and Doja Cat started to catch on to the brand's "bold and bodacious" designs. With Poster Girl set to be one of the It brands of summer 2021, we spoke to the designers about how a pair of red stilettos decided their friendship, the iconic early 2000s fashion moments that inspired their vision, and how the brand is expanding with impressive momentum.
Poster Girl's founders believe that their Aries and Gemini partnership works so wonderfully because it was "written in the stars". That same magic and vision manifests in their design aesthetic, which began on their second week at Central Saint Martins and became a reality in 2017. "We really just clicked straight away," Poster Girl told POPSUGAR. "Francesca was a week late at the start of the course and walked in with red stilettos, so naturally, I wanted to be her friend right away," Somerville said. "People mistake us for sisters all the time, and I guess spending so much time together, we're always so in sync."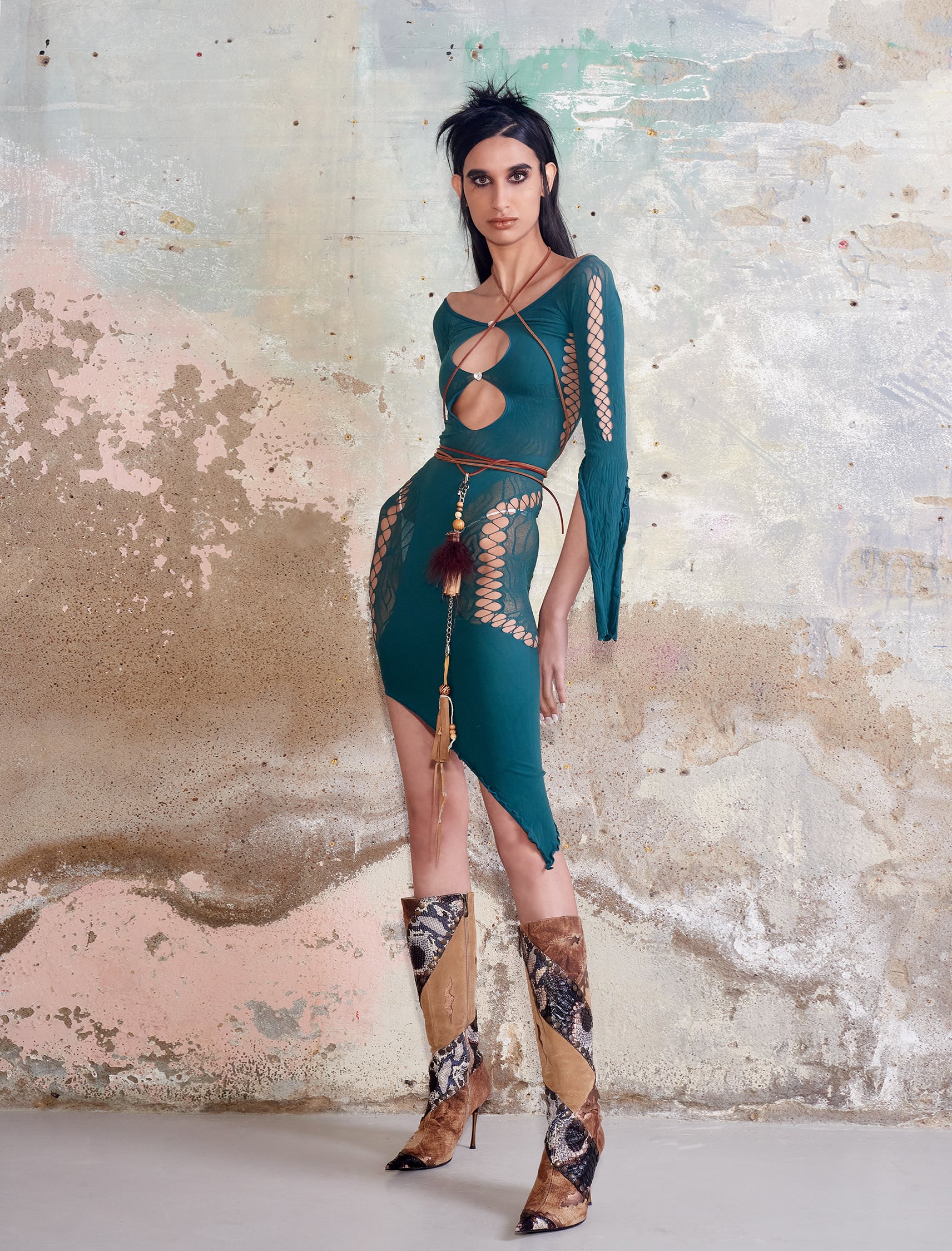 Poster Girl autumn 2021 (Poster Girl)
"Francesca was a week late at the start of the course and walked in with red stilettos, so naturally, I wanted to be her friend right away."
As soon as Somerville and Capper became friends, a drunken girls night out turned into an epiphany, and by the very next day, they were in a studio designing, planning, and pitching brand names for what would become Poster Girl. "We wrote down our ideas on the back of a receipt!" they said, and it soon became very clear that the magnetism that brought them together was a similar energy that defines the brand. And while the Poster Girl is an icon in her own right, Capper and Somerville had to credit series like The Simple Life and stars like Lil' Kim for inspiring their personal style.
"It would be a lie not to mention The Simple Life — literally iconic", they confessed as one of the brand's biggest influences. "There are legendary moments like Billy Bob and Angelina Jolie on that red carpet, along with series like The Anna Nicole Smith Show! Lil' Kim is basically God. Honestly, women who generally just don't give a f*ck and wear whatever the hell they want and look incredible doing so!" Iconic style moments from the early 2000s is the starting point for the Poster Girl aesthetic, but as for the Poster Girls of today — the brand names Kylie Jenner as their "ultimate It girl." Poster Girl loves that Jenner is a "power force on Instagram and inspiring mother — it's incredible for her to support us wearing our designs." Dua Lipa is also a contemporary muse for the brand because of her "global domination of the pop industry", and Shania Twain was named by Poster Girl's founders as their ultimate style crush and "childhood country gal!"
What's next for the brand? World domination, of course. Since quickly growing in cult status and counting Bimini Bon Boulash, Clara Amfo, and Jordyn Woods as loyal fans, Capper and Somerville are focusing on scaling Poster Girl. Since 2017, the brand was exclusively available on its dedicated website and has just recently launched with major stockists like Flannels and Ssense for spring 2021. "It's a phenomenal feeling to be with such huge stockists in the UK — they've been amazing to work with and definitely have supported us in more ways than one," the founders said. What we're most excited for is the brand's international expansion planned for summer 2021. "We have a really exciting launch coming up in a very sunny venue in July," Poster Girl shared the exclusive news with POPSUGAR. "A new city, new country — so we can't wait for that!"
Poster Girl autumn 2021 (Poster Girl)
Shop Poster Girl's bold and bodacious designs at Flannels, Ssense, and the Poster Girl online shop.
Photo of Poster Girl founders shot by Daniel Sachon with makeup by Lynski, and hair by Mike O'Gorman
Image Source: Poster Girl